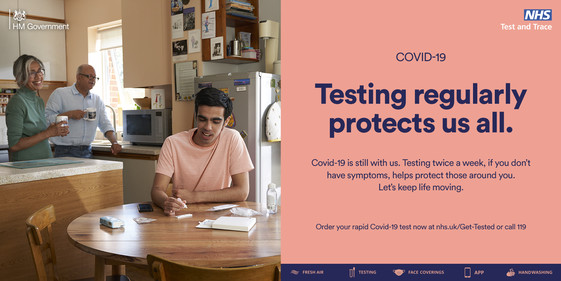 From Stoke-on-Trent City Council:
Testing twice a week should now be a normal part of our lives; even if you have had the vaccination you can still spread the virus.
Pop up testing and doorstep testing
Our pop-up testing centres offer lateral flow tests where people who don't have symptoms of COVID-19 can get a test which gives results in just over 30 minutes. No appointment is needed for these testing centres and anybody who isn't showing COVID-19 symptoms is welcome. You can also pick up home testing kits.
Our teams were out earlier in the week at Westport Lake and spoke to lots of families who had gone for a walk. A number of residents came forward for a lateral flow with around 90 boxes issued for home testing.
The doorstep testing saw our covid stewards visiting the Shelton area where case rates are high but testing rates have been low. The team delivered over 400 boxes to homeowners in this area.
Information on pop up testing and doorstep testing will be updated on the council website later this week – www.stoke.gov.uk/bookacovid19test. You will also be able to keep up to date by following us on social media.
There are a number of ways you can access regular COVID-19 tests in Stoke-on-Trent
Everyone in England can access free lateral flow tests. The kits are quick to use from home, and give results in 30 minutes. One in three people with coronavirus don't show symptoms, so the tests are really important in helping to quickly spot positive cases and squash any outbreaks. 
It's also really important that you follow the instructions in your test kit to ensure that the result is as accurate as possible, and that test results are registered online or over the phone – whether your result is positive, negative or a void result. If testing at home, residents will need to register their results online or by calling 119. They should self-isolate if positive and order a confirmatory PCR test within 48 hours of a positive LFT.
You can order lateral flow testing kits to use at home via any of the following routes:
Home testing kits are available to collect from a number of venues across the city. Our staff are trained and on hand to help you and they are available to answer any questions or concerns you may have and to talk you through how to use these tests. You can find out more details about the community collect venues which offer this via https://www.stoke.gov.uk/communitycollect
58 pharmacies across the city offer home testing kits. You can find out where you can collect them from via a map on the NHS website. Click here to find out more.
If you cannot collect a home test kit from a community testing site or pharmacy, you can order them online by clicking here.
If you have one of the three main symptoms then you are not eligible for lateral flow testing. You should instead book a test through https://www.gov.uk/get-coronavirus-test, or by calling 119.
Please also remember that confirmatory PCR tests for positive lateral flow tests have been reintroduced. It is really important that everyone has a confirmatory PCR test within 48 hours maximum of a positive lateral flow test (LFT) at our community venues.
Book a Covid-19 test (for people without COVID-19 symptoms)
You can still book lateral flow tests at our community testing centres and there are still plenty of slots available. A full list of community locations and booking options and a range of locations, dates and times for the week ahead the are available on our website via www.stoke.gov.uk/bookacovid19test. 
If you are symptomatic or need a confirmatory PCR test for a positive lateral flow test, and are unable to book one using the national system, you can alternatively request PCR home delivery.
New slots are added to the national portal throughout the day, but people can also book a home PCR test online at www.nhs.uk/coronavirus
If you require an urgent test you do have the option of a walk-up (unbooked) test at Fenton Manor Car Park or Synectics Solutions.
PCR tests are available in the city at SCFC, Fenton Manor Car Park and Synectics Solution and can be booked by going to Coronavirus (COVID-19) – NHS (www.nhs.uk) or by phoning 119.
Categorised in: Vaccines & Testing